The Perfect Ensuite
An ensuite is the ultimate compliment to any master bedroom.
Aside from the extra space and added privacy it provides to mums and dads of growing families, an ensuite is undoubtedly one of life's best home luxuries.
So, whether you're looking to do a full blown ensuite renovation or just looking to tidy up an existing ensuite, you'll find everything you need here to move forward with more confidence.
For those that want to know a little more about ensuites, read on, or alternatively, skip to Step 1.
If you're just looking for a cost effective, budget ensuite renovation that can be done over the course of a weekend or two, scroll to the bottom of the page.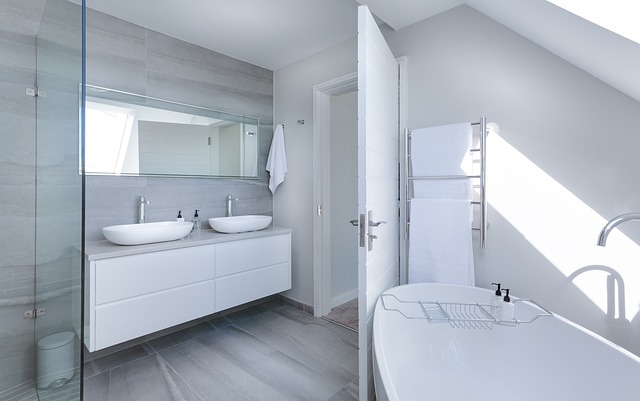 The Difference An Ensuite Makes
When done correctly, a properly renovated ensuite is one of the best minor renovations that can be made to a property.
Not only does it change the look, feel and vibe of the bedroom, but it also helps to add tremendous value to the property as a whole.
So, in this helpful guide, we're going to cover all the necessities to properly planning and creating the perfect ensuite.
But first…
What's So Sweet About An Ensuite?
While some people take them for granted, when young families find a property they really like with a master bedroom and ensuite, it can be like striking gold.
No more fighting for bathroom time with the kids or tripping over yourself to find the bathroom (and most importantly toilet!) in the middle of the night.
As an ensuite is usually only designed for one or two people, it can be easily customised to suit your level of comfort and style.
And the best part…
As an ensuite is usually just a small bathroom, the cost to renovate them can cost of fraction of what it would otherwise cost to renovate a standard bathroom.
Planning An Ensuite Renovation
Before you start ripping the place apart, it's best to plan out the design and layout for your new creation.
So, let's go through the step-by-step guide.
Step 1. The Cost Of An Ensuite
If you already have an ensuite, the final costs will come down to whether or not you're a broad, basic or budget renovation.
These are the 3B's of renovating.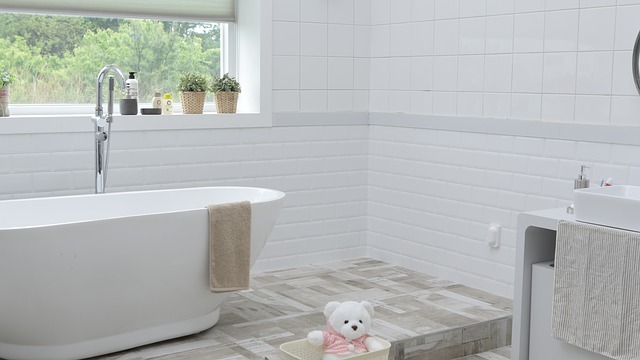 If you're adding an ensuite to a bedroom that doesn't already have one however, its best to first consult with a builder to get a rough idea or a ballpark figure on how much it will cost to have one installed.
Note: This won't be cheap.
Now, assuming you already have an ensuite and you're looking to give it a refresh or complete overhaul, read on.
Broad renovations may include pulling the entire bathroom apart, redesigning the layout and then reinstalling all new fittings, fixtures and finishes.
This will be the most expensive option.
Next would be a basic renovation.
This would include leaving the layout the way it is and installing some new fittings, like new tapware, and installing some new fixtures, like a new shower and toilet, and then finishing with a new coat of paint.
This would be a more cost effective option.
Lastly, there's the budget option, which would include leaving everything the way it is except changing some of the fittings (and maybe a fixture or two like a sink and/or vanity) and freshening up the bathroom with a new coat of paint.
This would be the cheapest option of the three.
Now before moving onto the next step, it's crucial to decide on which type of renovation you want to take on as it will determine the amount you can spend, and as such, where you allocate your money to.
For example, if you're getting ready to sell, a budget ensuite renovation might be the best choice.
Pro tip – When doing budget renovations, you should only spend money on renovation work that will be visible.
Spending money strategically and cost effectively is the best way to help add value to the property to see a return on your investment.
If you're looking to renovate the ensuite for long term comfort however, you may consider a broad renovation.
Knowing what you can spend on the total renovation will help you filter through all the costs and options associated with the renovation so you know what you can buy and what you'll have to avoid.
Effectively, this is cost control (or at least, as controlled as it can be on your behalf).
Remember, you want to see the ensuite renovation through to completion in the quickest, most easiest way possible.
The last thing you want is to be stuck halfway through because you've run out of money to fund the project.
Pro tip – Whatever you think the renovation will cost, allow at least
an extra 50% on top of the finished job cost just to be on the
safer side.
Step 2. Researching Ensuite Ideas
Once you know the type of renovation you're looking to do, start researching ideas.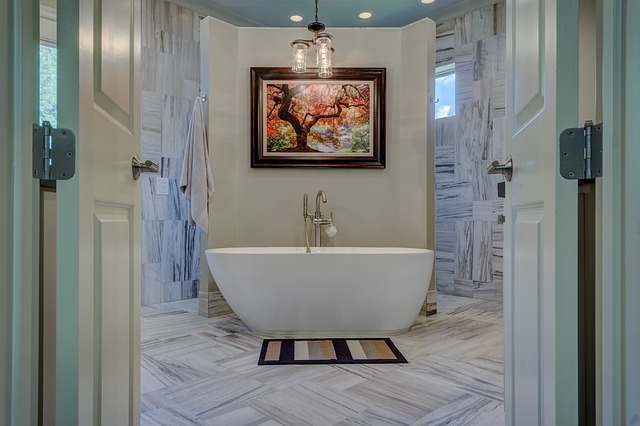 Start with Google if you don't already have a  idea for what you want to achieve.
Browsing images of bathrooms from all around the world should help to give you a great understanding of what will work and what won't.
Also, the buy and sold sections of online property portals like real estate and of course domain can also help you to filter through all of the different designs and ideas other renovators have implemented themselves.
Another good idea for inspiration are social media websites like Instagram and again, of course Facebook.
There really is infinite ideas to draw from to help really make your ensuite one of a kind.
Step 3. Planning The Ensuite Renovation
Now, in most cases, the ensuite won't usually be the only bathroom in the house.
This means that while you might be temporarily inconvenienced by not being able to use your ensuite as a bathroom, you still have the option to use the main bathroom until the ensuite renovations are complete.
The real question you have is when you will start the renovation work.
And because of this, you will need to plan out the work.
Budget renovations can usually be done over a weekend or two without much fuss so aside from choosing what finishes and fittings you're going to change, minimal planning can be achieved.
Basic renovations may require a little bit more planning however.
Coordinating tradespeople will be the biggest hurdle, but we'll get into that later on.
However, broad renovations will require a lot of planning.
If you're stripping the bathroom bare and planning the a new layout, this should be done with the help of a bathroom specialist.
Before beginning any work, consider the things that aren't overly obvious before starting a renovation.
Things like the time of year and how it will affect the renovations.
For example, is it close to Easter, Christmas, school holidays, public holidays etc.?
These holiday periods mean there's less availability with professionals.
Not to mention how preoccupied you will be with your own plans which will take away the focus you need on completing the ensuite renovation ASAP.
Next, when the ensuite renovations begin, how will they take place?
Will you be overseeing and supervising the project yourself?
In this case, if you need to take time off work, you would need to plan for this.
If the project is being handled by a bathroom specialist, designer or builder, how will the scheduling look?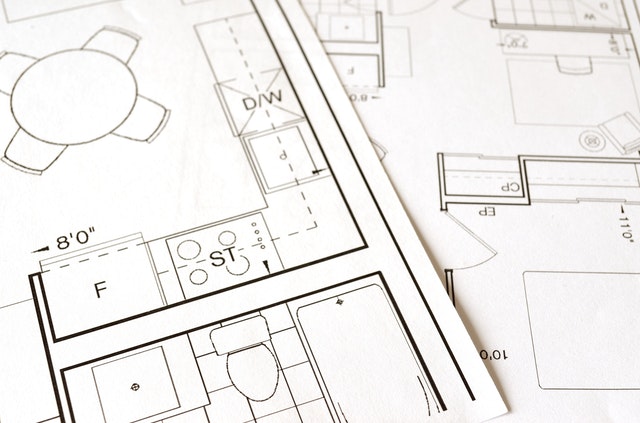 Will they just be working during the week or will they also be working over the weekends also?
How will that affect your usual plans and scheduled activities during the week and over the weekends?
While often overlooked, asking yourself these simple questions can really put you ahead from the very beginning, helping to minimise or eliminate any wasted time, effort, energy and money.
Step 4. Designing The Ensuite
Designing is simple when you keep things simple.
To help get you started, choose a theme for layout and the 3F's – fittings, fixtures and finishes.
While you can mix and match in some situations, it's best to stick with a theme that stays consistent throughout the ensuite renovation.
The best options would include a timeless, traditional style look or a more modern, industrial style finish.
Now that you've selected a theme, choose your colour palette.
The colours you choose will have a huge impact on the finished look and feel of the ensuite
This is why it's so important to choose colours wisely.
Your best option?
Neutral colour palettes…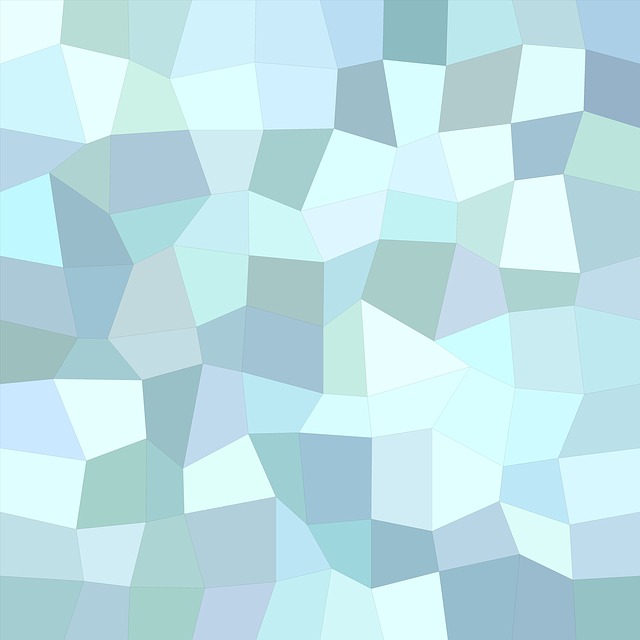 They offer huge flexibility to play with a variety of different options and will blend well with most of what else you want to add.
When using darker colours, try to use them sparingly and preferrably just on a handful of fittings that see the most use.
Things like door handles, toilet roll holders, tapware, shower heads and on suitable basins.
Next, drawing from all the inspiration and ideas you've collected, pick out everything you like the look of and put it aside.
It's now just a process of elimination for what you like best.
When designing the ensuite, maximising space should be your main focus and objective.
So it's best to try to keep everything off the floors.
This means if you have a choice of keeping it off the floor by bolting it to a wall, this would be the better option.
Not only does this help add to the space but it also helps to make everything easier to clean.
Step 5. Permits And Approvals For Renovation Work
Before starting any renovation work, it's best to first check with all relevant governing bodies about any permits or approvals you need before starting.
This includes checking with the local council and, if the property is an apartment, the managing strata agency and committee.
While this can take up valuable time and resources, save yourself from the potentially costly problems down the track by having any and all required inspections, approvals, certifications and permits formally approved, confirmed and in place prior to starting any kind of renovation work.
Step 6. Using The Right Professionals
Simple ensuite renovations can involve using just a waterproofer, plumber, tiler, painter and possibly a carpenter and electrician.
This means it is possible to project manage simple renovations from start to finish yourself.
Where as more indepth, custom designed ensuites can involve a wide range of professionals which may include
– Bathroom designers
– Builders
– Carpenters
– Painters
– Waterproofer
– Plumbers
– Electricians
– HVAC contractors (heating, ventilation, air conditioning)
– Tilers
– Dry wallers / Plasterers
– Rubbish removalists
– Labour hands
– Architects
– Engineers
– Consultants
As you may be able to tell, the more indepth you go, the more professionals required.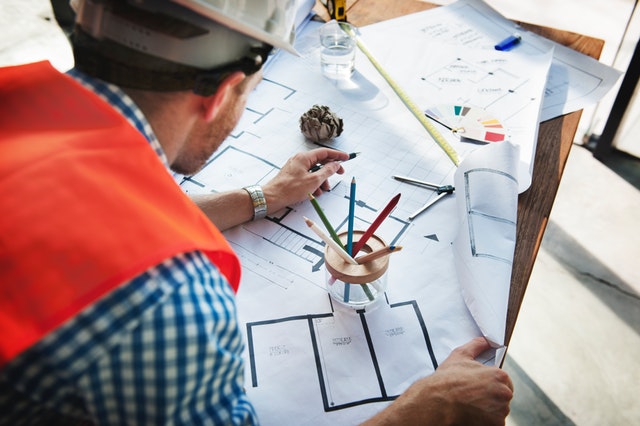 The key to a successful ensuite renovation however is having the project professionals coordinated correctly to ensure a smoother renovation process.
Having the right professionals at each stage of the renovation process will help to have the project running as cost effectively and straight forward as possible.
Step 7. Sourcing The 3F's – Fittings, Fixtures And Finishes
Unlike a kitchen renovation, practically everything you need for an ensuite renovation can be purchased "off the shelf".
This ease of preparation means that, so long as it will fit, you can practically source and buy everything you want yourself and just arrange to have it installed.
Even if you're changing the layout of the ensuite itself.
This is what makes ensuite renovations so appealing do.
Now, let's go through the different types of fittings, fixtures and finishes you can add to your ensuite.
Tiles – For Walls And Floors
One of the most noticeable aspects to any ensuite (or bathroom) renovation is the tiles.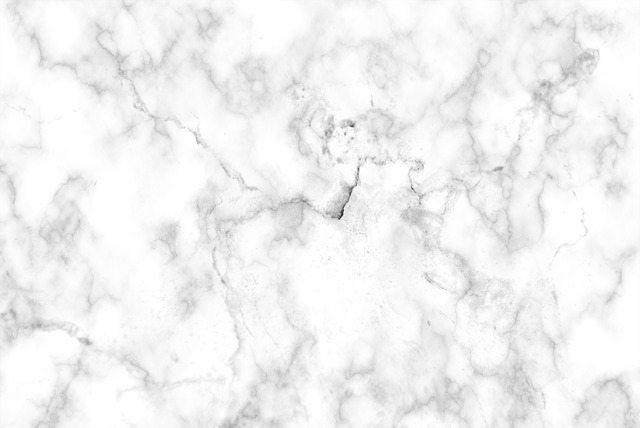 If you only pay particular attention to one detail in particular, it's the tiles.
Why?
Because the tiles will either make or break your ensuite renovation.
This is why its crucial to choose the right tiles for your renovation.
But let's keep this simple.
As a rule of thumb, try to keep the floor tiles a darker shade or colour than the walls.
Especially for smaller bathrooms like ensuites, lighter colours are a better choice for making more confined areas appear more open and spacious.
Choices of tile include ceramic, porcelain, stone and mosaic.
What you choose will depend on a number of factors but will ultimately come down to suitability, price and personal preference.
Pro tip – Add to the ensuite luxury by adding heated floor tiles.
While once an expensive option, heated floor tiles can sometimes add a negligible difference to the finished pricing of installed floor tiles.
Paint – For Walls
Again, keep it a neutral that works seamlessly with the rest of the bathroom and stick with a semi gloss.
Shower
Frameless glass is one of the best picks.
Also, if the framework is being altered or adjusted, a cavity can be added to the shower area for minimal additional effort.
Shower cavities add a much more sophisticated, "fully renovated" style feel.
It also offers a neater finish than a traditional shower rack hanging off the shower head neck.
Pro tip – If you have the room and the plumbing permits, why not opt for two shower heads instead of one.
Bathtub
If you're one of the lucky ones that has an excessively sized ensuite than you may already have a bathtub in place.
Alternatively, you may just have the luxury of space to have one installed should you choose to do so.
Regardless, having a bathtub can either rob the ensuite of precious space or help add to the look and feel.
If you are looking at bathtubs however, opt for a plain, freestanding white one that helps maximise the space of the ensuite rather than taking space away from it.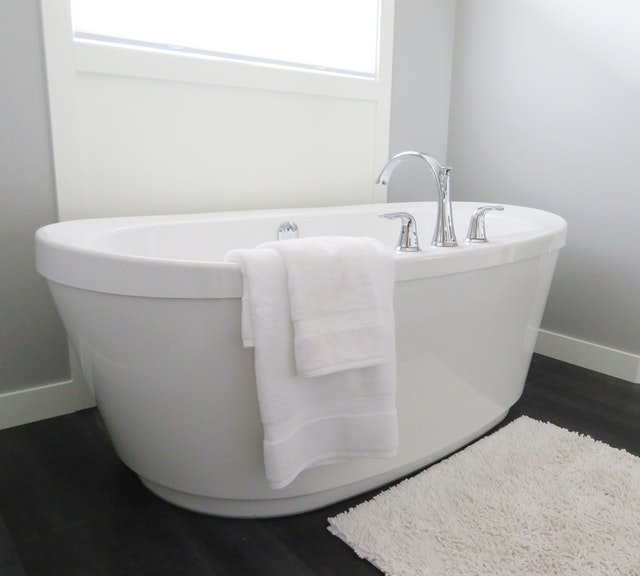 Toilet
Replace with a sleeker, more modern style finished toilet.
Ideally, if the renovations and plumbing permit, choose a toilet that fits off the wall, not the floor.
Vanity And Basin
Again, opt for an off the wall, more architecturally inspired vanity.
If room permits, why not opt for a double basin? Or at least a larger single basin with dual tapware?
Not only will it add to the finished look but it will help to ensure you don't need to coordinate with each other to prevent lost bathroom time.
Lighting
One of the most underrated and underused items for the bathroom is lighting.
Which is definitely a waste because properly positioned lighting can add another huge impact to an otherwise standard bathroom.
The trick to maximising the effect of lighting however is by getting creative.
Instead of just having lighting coming from the ceiling, why not consider
– Under the vanity
– In the shower cavity
– In the floor etc.
How about getting even more creative and installing time delayed night time sensors to turn on a bathroom light instead of trying to find your way (and the light switch!) in the middle of the night?
As you can see, these are just a few suggestions you can work with.
What other options are a possibility?
Oh and don't forget the additional option of heat globes in the ceiling for those colder winter days.
Skylights
Hand in hand with lighting is natural lighting.
If your bathroom permits, why not use the power of natural lighting and consider installing a skylight (or few)?
Not only will it help to keep the energy bill down during the day but it will also help flood the ensuite with rays of natural light giving it a fresher look and warmer feel and better vibe.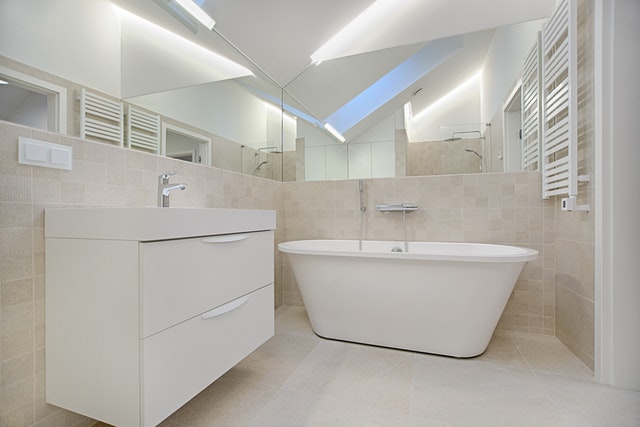 Mirrors
Again, why not have two?
One above each of the basins.
Pro tip – Take your time in choosing the right mirrors.
While not always considered, the size, style and look of the mirror plays a big part in the overall finished look of the ensuite.
Stick with basic shapes where possible – square, rectangles and circles.
Towel Rack
Again, take the time in choosing the right towel rack as this is another one of the feature pieces in a bathroom.
Towel racks usually stand secluded on its own wall so having the right towel rack in place is a necessity.
While you can choose a different colour from the rest of the fittings, it's still better to choose something that will blend well with the rest of the ensuite.
Pro tip – Add to the ensuite luxury and complement heated flooring by adding a heated towel rack.
Tapware And Other Fittings
Try to have matching coloured taps, handles and shower heads.
Having matching door handles, toilet roll holder and towel hook (if required) will also complete the look.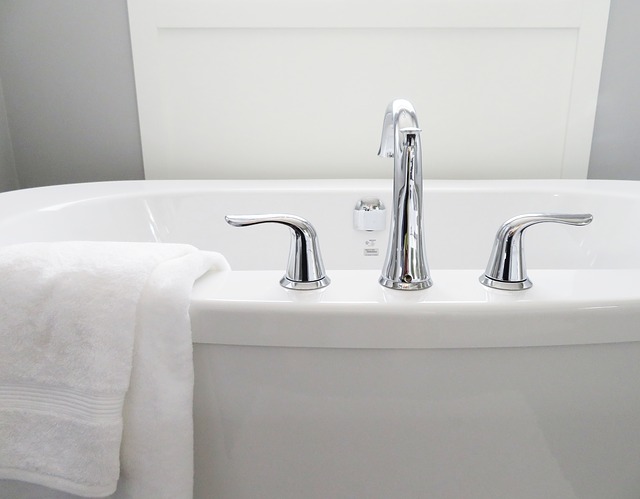 Decor and Accessories
Complete the look with well positioned complementing decor and accessories like
– New matching towel sets
– Indoor plants
– Candles
– Stool
Step 8. Organising The Ensuite Renovation
Have you purchased everything you want fitted and installed?
If not, this is when you will start organising purchases and placing orders for everything required.
Once you have everything you need is ready or waiting to be delivered, you will start scheduling and booking the required trades.
Step 9. Preparing For The Ensuite Renovation
Preparing the ensuite for renovation is the pre demolition stage, or for budget or basic renos, the site prep step.
Firstly, double check everyone is on schedule and everything is ready to be delivered.
Next, remove anything you're keeping from the ensuite.
Effectively, anything that's not being thrown out or demolished, remove.
Also, check with the professionals if their charges include rubbish removal.
After all, that waste still needs somewhere to go.
In most examples it's still best to have a small skip bin on site so consider ordering one.
Lastly, remember, there will be a lot of foot traffic and people coming in and out of the house to get to the ensuite.
Both people you know, and won't know.
It's best to avoid any doubt and remove and lock up any valuables and protect anything in and around the house you don't want getting damaged.
Important note – From here on in, it's best to leave the actual work to trained professionals.
Remember, water, especially when uncontrolled and in a house is very unforgiving.
Stick with the project management and leave all the heavy handed, labour intensive work to experienced and suitably qualified professionals.
Step 10. Disconnecting Services Before Starting
This is where all services connected to the property will be disconnected and shut off.
This will include any water, electricity and gas.
Once everything has been shut off, it's best to double check everything has in fact been disconnected and then the actual renovation work will begin.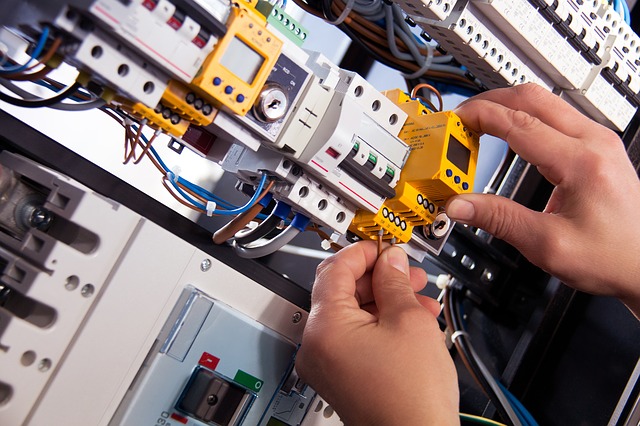 Step 11. Ensuite Reno Demo
Pro tip – If anything in the bathroom is in good usable condition, why not consider selling it?
You would be surprised at the amount of money you can make from selling any unwanted or unused bathroom fittings or fixtures instead of just throwing them out.
Fixtures like vintage or period tiles, bathtubs, toilets, vanity's, basins as well as fittings like tapware and other accessories can really surprise you with how much they're worth to people second hand.
Consider speaking with antique dealers or browse online for second hand goods to get a gauge for their potential worth.
Even if they're not worth anything, it's better to know before its too late.
If not, you could literally be throwing money away that could otherwise help support the ensuite renovation costs.
Firstly ensure all professionals working on your bathroom are wearing the correct Personal Protective Equipment (PPE).
This includes hardhats, safety glasses, face/dust masks, ear muffs, long sleeved shirts, protective pants, steel cap boots/shoes and protective leather gloves.
Now depending on the type of renovation you're completing, this is where site preparation and any demolition work will begin.
As every ensuite layout varies, so too will the way it's demolished.
In most instances, the first things to go will be any light fittings and accessories.
These will include things like:
– Basic accessories that are being thrown out
– Taps
– Handles
– Shower heads
– Toilet roll holders
– Towel hooks
– Towel racks
– Mirrors
– Lighting
Once all the loose fittings have been removed, next to go will be the fixtures.
These will include things like:
– Vanity and basins
– Toilet
– Bathtub
– Shower
– Tiles
The bulk of most ensuite renovations can be handled with sledgehammers, pry bars and wrecking bars.
Now, as a rule of thumb when demolishing, most professionals will usually start removing the larger items closest to the doorway first.
This allows maximum room to work with as you make your way to the end of the ensuite.
You'll be surprised at just how quickly a bathroom can be demolished.
Doing A Full Reno? Check out our Complete Kitchen Renovation Guide
Step 12. Modifications And Adjustments To The Ensuite
Are you making any repairs, alterations, additions or adjustments to the structure or layout of the ensuite?
If you are, this is when you will make any of those changes.
Before moving forward however, ensure all required inspections, approvals, certifications and permits have been approved and granted and that everything and anything necessary is in place before even thinking about doing anything to the structure.
Not only can the consequences be costly, but it can also be dangerous to you and anyone else living in the property.
It's advised that if you are altering, adding or adjusting the overall structure in any way that it has been assessed and signed off by properly qualified drafts people / architects, engineers and any other relevant consultants before beginning.
Once everything is ready, hand the plans to the builder or carpenter for them to do the required work.
Step 13. The Rough In
Now that everything is open, this is the perfect time to do the plumbing and electrical, as well as any HVAC – Heating, Ventilation, Air Conditioning, rough ins.
Rough ins are basically the first or base stage to setting up the required service necessities.
Step 14. The Waterproofing
Once all the changes have been made, the next step is to properly waterproof any areas that need waterproofing.
A waterproofer will handle this.
Step 15. Install The Shower
This is where the bones of the new shower will be set up.
From here, any remodelling and new piping to support or redirect water flow as well as adequate drainage will now be put into place and installed.
Everything except the tiles, paint and fittings will be attached.
A plumber will handle all of this.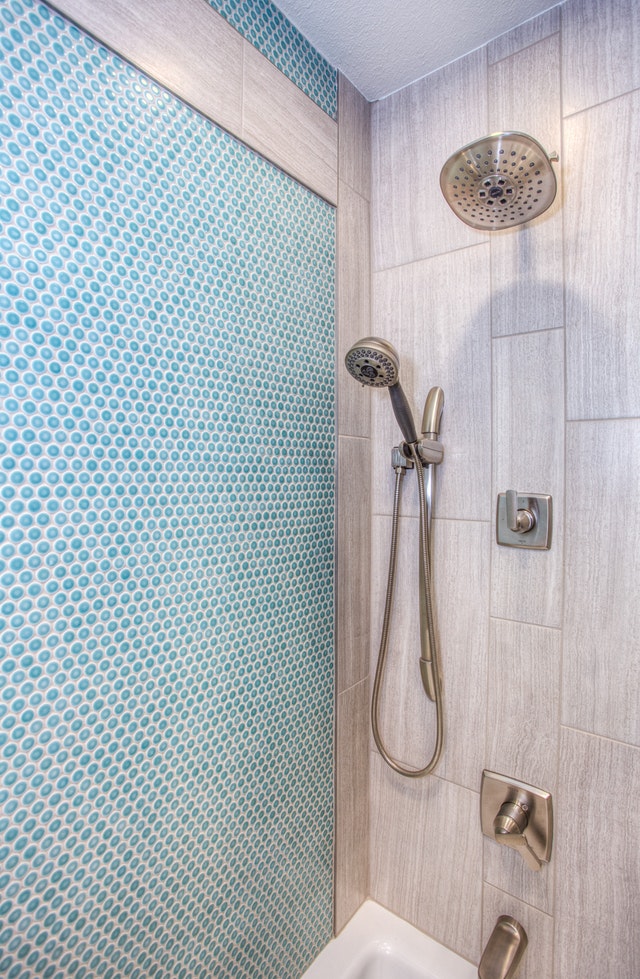 Step 16. Optional: Install The Bathtub
If you have room to install a bathtub, this is where it will be installed in a similar fashion to the shower set up.
Again, a plumber will handle this.
Step 17. Install The Tiles
Next up is the wall and floor tiling.
Any area of the ensuite that is going to be tiled will get done now.
A tiler will handle this.
Step 18. Prime And Paint The Ensuite
Any area that is not, or won't be tiles will need to be given a prime coat and then followed up with two or three coats of your preferred semi-gloss paint.
Either you or a painter can do this.
Step 19. Install The Lighting
Any new lighting will now be fit into place.
An electrician will handle this.
Step 20. Install the Vanity and Basin
A plumber will handle this.
Step 21. Install The Toilet
A plumber will handle this.
Step 22. Install The Fittings
This includes
– Taps
– Handles
– Shower heads
– Toilet roll holders
– Towel hooks
– Towel racks
– Door handles
– Mirrors
A plumber will handle this.
If you're installing a heated towel rack, an electrician will handle the installation.
Step 23. Optional: Install The Screen To The Shower
If required, install the frameless glass door screen to the shower.
Step 24. Add The Decor And Accessories
This includes
– New matching towel sets
– Indoor plants
– Candles
– Stool
Step 25. Complete The Ensuite Renovation
Get the electrician and plumber, as well as any required HVAC contractors, to complete the rough in (finish pipe work, wiring, cabling and connecting).
Once everything is working like it should be, there's really only the finishing touches left.
Step 26. Finishing The Ensuite Renovation
Give everything a once over and make any adjustments, alterations or touch up's where required.
Aside from giving the place a good clean, you're done!
Congratulations!
Step back and admire your new ensuite renovation creation!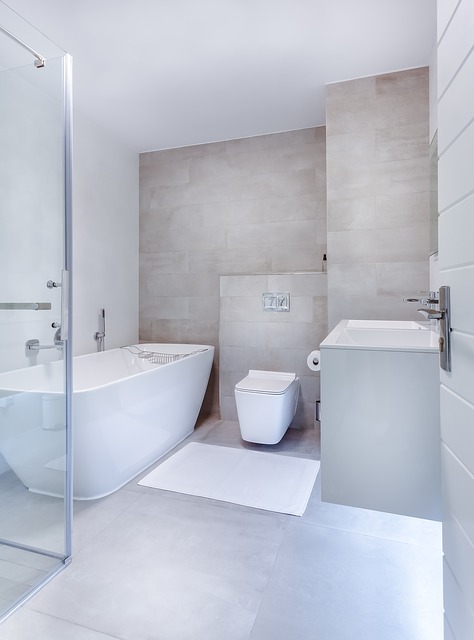 Now, for those looking to upgrade their ensuite on a budget…
Below are some helpful tips to refresh the look of your bathroom for a fraction of what it would cost to renovate.
Firstly, be sure to put on all the correct Personal Protective Equipment (PPE)
Now, let's go through them.
Step 1. Declutter Your Ensuite
Chances are if you're looking to renovate your ensuite its because you want to change the way it looks or you don't like it's functionality.
The quickest and easiest way to solve both issues is to declutter.
Throw out anything thats just taking up room or that you rarely use.
This will help to really open up the area and maximise the space.
This includes any freestanding cabinets or draws that you could just go without, or that you can replace with new ones.
Once you've got everything down to just the bare essentials, move onto the next step.
Step 2. Give Your Ensuite A Really Good Clean
First, open up any windows to have a good flow of ventilation running through the ensuite.
Next, where possible, buy a general purpose interior/exterior tile and grout cleaner concentrate that requires minimal to no effort to apply and remove.
Pro tip – alternatively, you can use a mix of bicarbonate soda and white vinegar. Apply, allow to work into the area and give it a good scrub. Clean up and then give another clean up.
Apply and remove the tile and grout cleaner as per the instructions.
Once complete, clean any glass and all the usual fittings and fixtures.
Lastly, vacuum and mop the floors with a disinfectant to complete the clean.
Step 3. Change The Mirror
Chances are you look in your bathroom mirror almost every day.
So it's fair to say that you've become somewhat of accustomed to just looking at yourself in it.
Replacing the exisiting mirror with a totally different shaped mirror will automatically help to change the look and feel of the ensuite.
This minor, simple enhancement can make a big difference.
Step 4. Paint Your Tiles
As you've already cleaned both the grout and the tiles themselves, this process will be relatively simple.
First, remove the glaze from the face of the tiles by giving them a light sand.
Once all the tiles have been sanded wipe away all of the dust with a damp rag.
Prepare the area for painting by laying down drop sheets and masking of the areas to be painted with painters tape.
Next, following the instructions on the can of tile paint, apply the primer and allow to dry and then follow up with a coat or two of tile paint.
Step 5. Paint The Walls And Ceiling
Step 1. The first thing you want to do is correct any damaged areas or surfaces that need to be repaired before painting.
Remember, always start from the top and work your way down to the bottom in every step.
Using a range of multi-purpose fillers to repair minor cracks, holes, chips and other imperfections on a range of surfaces before painting is your best bet.
Read the products directions and follow for the best results.
Step 2. Remove flaky, loose, uneven paint and get as smooth as possible by scraping and sanding.
Step 3. Wipe down the area to be painted with sugar soap and then a damp rag to get it clean and dust free.
Step 4. Cover and mask up any fittings or fixtures that do not need to be painted or that aren't being painted in the same colour that you're applying to the ensuite.
Step 5. Lay down a drop sheet anywhere you'll be working to catch any spilt paint.
Step 6. If where you're painting requires a primer, start by cutting in around tricky parts and area's not easily painted with a primer.
If it doesn't need a primer, start using the paint.
Cutting in involves covering areas like the corners, around gaps, frames, fittings and fixtures.
Step 7. Once cutting in is complete, cover the rest of the area to be painted with the primer if it needs it and allow adequate time to dry.
If it doesn't need a primer, go straight to the next step.
Step 8. Paint the ensuite and allow adequate time to dry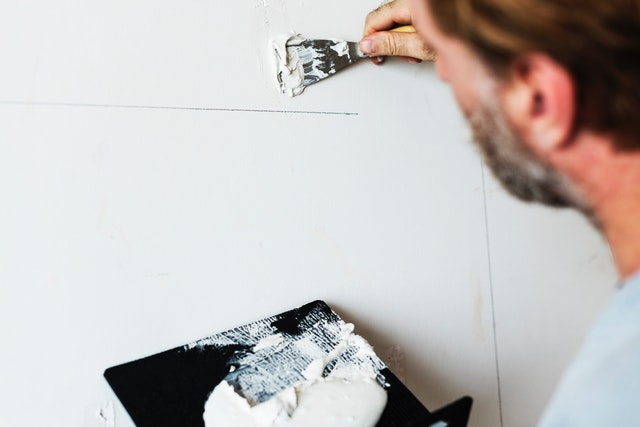 Step 9. Apply a second coat of paint and allow adequate time to dry.
If necessary, apply a third coat.
Step 10. Lastly, remove the coverings on the fittings and fixtures and paint as necessary, allowing adequate time to dry in between applying more coats.
Be careful not to spill any paint on surfaces that have already been painted a different colour.
Step 6. Replace The Tapware 
A simple yet cost effective improvement to any bathroom or ensuite is to replace the tapware.
Tapware can include just the taps and handles or you can also include the shower head and handles too.
The trick to pulling off the look successfully however is that everything must blend in with the look of the bathroom as a whole.
You don't want brand new fittings standing out like a sore thumb against a 1970's style ensuite.
So spend a little time looking for the right option to help blend everything together seamlessly.
Step 7. Replace The Other Minor Fittings
Speaking of blending in seamlessly, while you're looking for new tapware, and if the budget allows, try to match it with other minor fittings like
– Vanity and cupboard handles
– Toilet roll holders
– Towel hooks
– Towel racks
Pro tip – If you wanted to go one step further, you could also change the door handle to also match.
These should help to complement the finished look.
Step 8. Replace The Bathroom Globes
Remove all the old globes and replace with an all new, modern look globes.
Step 9. Add Some New Decor And Accessories
Lastly, complete the look by adding some fresh new decor and accessories like,
– New matching towel sets
– Indoor plants
– Candles
– Stool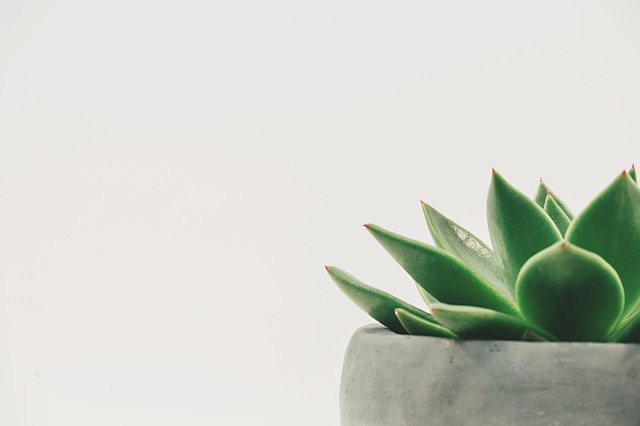 Conclusion
Depending on the type of ensuite renovation you want to do, renovating the ensuite can be either straight forward or a little more complex.
What's important to note however is doing the renovation in the correct order so nothing is missed and everything is done in the most time and cost effective way possible.
With this guide, you've just made the renovating process as easy on yourself as possible (or at least as easy as it can be!).
Well done!
The time you took to read this whole article will cost you far less time than the mistakes you could make had you not read it.
Final Words
And now we'd like to hear from you:
Have we left anything out or do you have any questions?
What part of this article are you going to try out or implement?
Would it be the kitchen demolition or the none of it!?
Leave us a comment below and let us know!